Campaign
Investing in our Future
On January 27, 2013 the people of Foothills Christian Church attended a Celebration Dinner to kickoff the spiritual giving campaign, "Investing In Our Future," - a prayerfully directed sacrificial capital campaign to fund the Youth Ministry Expansion and building project.
The all-church event was held at the Town & Country Resort Hotel in Mission Valley. The evening included a delicious dinner, music and worship, special videos and an update from the building project manager.
Check back in mid-February for more information about the event, pictures and videos, and campaign updates.
Kenny's Corner
UPDATE: May 16, 2013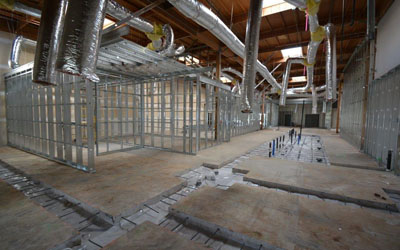 We are pouring the concrete floor on Friday, May 17th.
We are scheduled to complete framing by the following week. Thank you for your prayers.
UPDATE: May 10, 2013
We received our Building Permit this week.
The plumbing underground is installed, inspected and backfilled. Concrete replacement is scheduled for next week.
UPDATE: May 2, 2013

Framing has begun and it's starting to take shape.
UPDATE: April 26, 2013
Overhead construction complete!
Demolition and underground scheduled for next week.
UPDATE: April 10, 2013


Construction on the Youth Ministries Building has officially started.
We received the keys from Kevin Miller at 10am on Wednesday, April 10, 2013. The demolition and overhead construction will begin on Thursday morning, April 11th. Please continue to pray for this project – specifically that all work will be completed on schedule. Thank you for your support and prayers.
A SPECIAL REQUEST FROM OUR BUILDING PROJECT MANAGER - Kenny Taylor

"We have an excellent plan but a tight schedule. We would appreciate your prayers as we stay focused and determined to meet our deadlines. To that end, please submit any project questions to Don Bastrom and check here as we will post regular updates on our progress. Thank you in advance for your cooperation."
Celebration Dinner Video
Celebration Dinner History & Highlights from Foothills Church on Vimeo.
OnLine Support
If you'd like to support the Youth Ministry Expansion Project or make pledge payments online you can do so in a secure connection using this button:
Stay tuned for more updates!